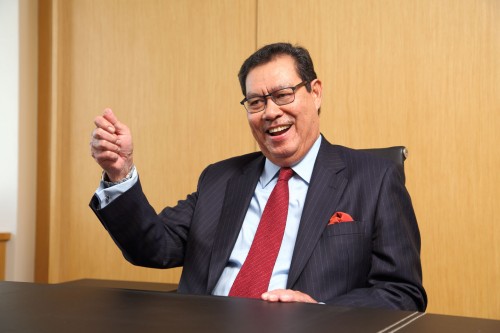 Tan Sri Datuk Seri Panglima Sulong bin Matjeraie, a Malaysian,aged 67, was appointed an Independent Non-Executive Director of Brahim's Holdings Berhad on 18 July 2013. He has over 30 years of legal and judicial experience. Initially, he pursued his studies at University of Malaya, Kuala Lumpur in 1966 and was conferred the Bachelor of Arts (Honours) degree in 1970. In 1971, he read Law at the Inns of Court School of Law, London and in July 1974, he was called to the Bar of England and Wales by the Honourable Society of Inner Temple, London. In the same year, he was also admitted and enrolled as an Advocate to the High Court of Borneo at Kuching. In 1975, he left for further studies at the University of Southampton, England and was conferred with a Master of Laws Degree in Mercantile Law in 1977. In 1978, he attended a course in Advanced Management
Programme jointly sponsored by Universities of Alberta, British Columbia, Manitoba, Saskatchewan, Canada and was awarded a Certificate in Advanced Management Programme (AMP) by the Banff School of Advanced Management.
Tan Sri Sulong started his career as a Sarawak Administrative Officer in the Sarawak Civil Service in 1964. In 1970, he was appointed as a Third Class Magistrate, and was also made the Acting District Offi cer, Binatang (now renamed as Bintangor). In 1971, Datuk Seri Sulong took on several roles, firstly as the District Offi cer of Bintulu and then as the Sarawak State Training Officer and Secretary of the Sarawak Government Examination Board. In 1974, he was appointed as Director of Civic Development Unit directly under the Chief Minister of Sarawak. In 1977, he was appointed as the Administration & Finance Manager at the Sarawak Timber Industry Development Corporation before assuming the General Manager role from 1979 to 1980. He became the General Manager of Bintulu Development Authority in Bintulu that same year until 1983.
In 1983, Tan Sri Sulong left the Government Service to set up his own legal fi rm under the name of Messrs Sulong Matjeraie & Co. in Kuching, Sarawak. In 1998, he was appointed as a Judicial Commissioner of High Court Johor Bahru until his appointment as a High Court Judge of Malaya in Johor Bahru, Johor in June 2000, and in Kota Kinabalu, Sabah, in July 2000. He subsequently served as a judge of the Court of Appeal of Malaysia (2007– 2012) and as a judge of the Federal Court of
Malaysia in 2012 until his retirement in January 2013. He is a Bencher of the prestigious Honourable Society of
The Inner Temple, London.Datuk Seri Sulong was later appointed by the Prime Minister of Malaysia as one of the four eminent persons to serve in the Judicial Appointments Commission for a period of two years commencing from 10 February 2013.
Currently, he is also a director of Sona Petroleum Berhad and Ho Hup Construction Company Berhad.